A Total Knee Replacement is the most common surgery performed for arthritis of the knee. In this procedure, the surgeon removes the worn-out joint surface with carefully measured bone cuts. The knee is then resurfaced with a specially designed artificial joint prosthesis.
Dr Woodbridge is trained to make use of the latest technologies available to optimise total knee replacement surgery. He uses both computer navigation and robotic arm assistance. This form of technology does not replace the surgeon, rather it allows the surgeon to implant the prosthesis with greater accuracy and control. Robotic technology relies on a preoperative CT scan to map out the bone anatomy of each individual patient. This allows for careful preoperative planning and implant sizing. The greatest advantage of this technology is that the prosthesis can be balanced within each individual's own soft tissues. This minimises the need for ligament releasing and therefore it is thought to reduce postoperative pain and improve satisfaction.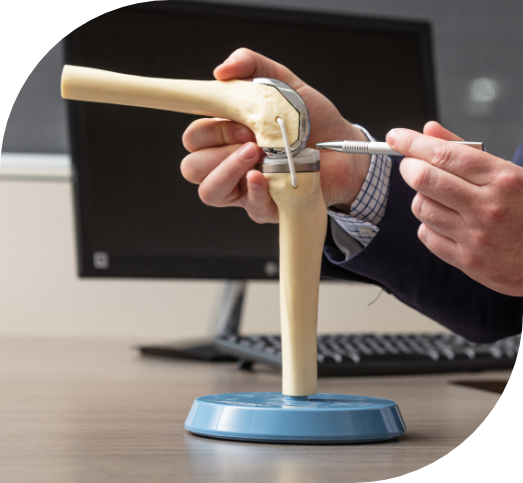 Robotic technology has advantages over patient specific implants, because the surgeon is not forced to stick with preoperative plan. This technology allows the surgeon to modify alignment during the operation and the computer can predict the resulting ligament tension before a bone cut is actually performed.
Regardless of which technique is used, Dr Woodbridge pays particular attention to achieving the best possible soft tissue balance for your knee.
Who needs a Total Knee Replacement?
Total knee arthroplasties are generally reserved for patients who have advanced arthritis. This is most commonly osteoarthritis. The primary reason for surgery is pain relief and return to function. Most patients with arthritis of the knee experience pain and may also have stiffness, deformity or instability. When these symptoms are no longer controlled with simple non-operative measures, then surgery can be considered. The impact that you arthritic knee has on your quality of life is an important factor when deciding whether to go ahead with surgery.
Dr Woodbridge places significant emphasis on a careful assessment of your history, examination findings and radiographic features. Dr Woodbridge aims to educate and involve his patients in the decision-making process.
How Long is the Recovery?
Most patients spend 4-5 days in the hospital where the surgery is performed. Patients then have the choice of going home with ongoing out patient physiotherapy or going to a rehabilitation hospital for 1-2 weeks to continue the physiotherapy as an inpatient. Dr Woodbridge is happy to discuss these options with you in regards to your own circumstances.
Most patients come off walking aids at 4-6 weeks, and many are able to return to driving at this point in time. Studies indicate that patients continue to improve for up to 9 months after surgery, but the first 3 months are the most critical in terms of physiotherapy rehabilitation of the knee.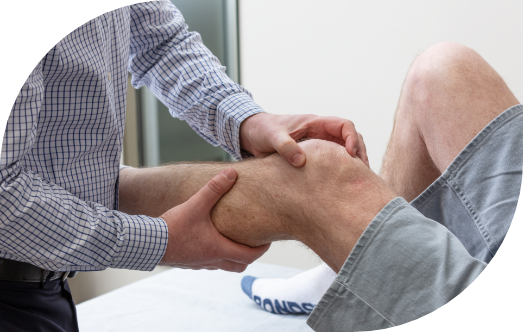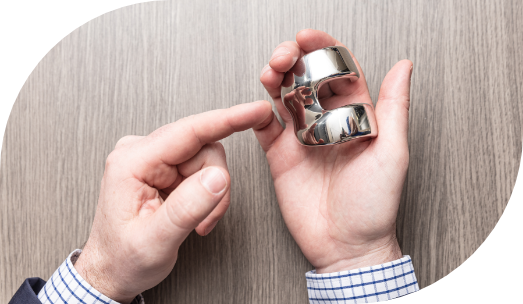 How Long does a Total Knee Replacement Last?
Australia's National Joint Registry has been keeping accurate records of revision rates for the past 20 years. The good news is that knee replacements seem to be lasting longer than the traditionally held views on longevity. On average at 20 years, over 90% of knee replacements are still functioning. This is likely the result of improvements in materials and design of implants, as well as more accurate implantation over recent decades.
Dr Woodbridge uses a prosthesis that has a low revision rate with an established track record.