There are multiple surgical approaches to the hip. The most commonly used approaches are the posterior, anterior and lateral approaches. Each of these approaches work well, and they each have relative advantages and disadvantages.
Dr Woodbridge has had fellowship training in a new tendon sparing modified posterior approach called the S.P.A.I.R.E (Spare piriformis and internus, repair externus) approach. A standard posterior approach is the most versatile approach. It involves detachment of the small muscles from the back of the femur (short external rotators), and these are repaired to the bone at the end of the procedure. The less-invasive SPAIRE approach has the advantage of preserving the piriformis and obturator internus tendons combined with the surrounding gemelli muscles.
Dr Woodbridge has received fellowship training in this procedure with Professor Timperley, who first developed this approach, out of the respected Exeter Hip Unit in England.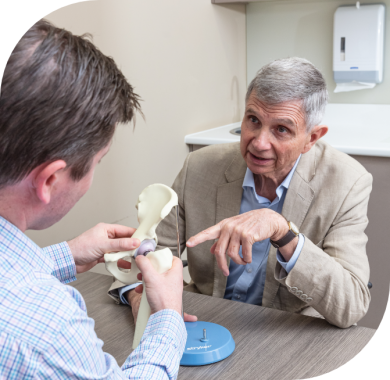 The main advantage of the SPAIRE technique is improved stability of the joint, potentially reducing the risk of dislocation. Patients that have the hip replacement through the SPAIRE approach do not need to adhere to postoperative hip precautions which simplifies the rehabilitation process. There may be additional strength and functional benefits of this tendon sparing approach, though further research studies may be required to confirm these benefits.
In some cases, preservation of the short external rotators may impair the visualisation of the socket (acetabulum). In this situation the SPAIRE approach can be easily converted to a standard posterior approach.
Dr Woodbridge will be happy to discuss whether the SPAIRE approach is appropriate for your hip replacement.